⬅ Return to collection
Art : Mid-century
This item has been sold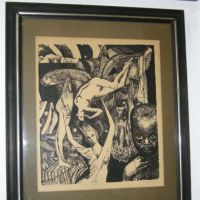 Signed and Numbered LEO RUSSELL WPA Artist 1970's Print
A fantastic Leo Russell (born 1917) signed and numbered print done in the late 1960's to early 1970's. Leo Russell is a very well known WPA Artist that has been shown and sold of the years. His later period art, the 1950's and beyond have a strong abstract and modernist feel. The 1950's led him through a cubist/ no object style art, but the 1960's to 1970's brought him to the counter culture and protest art that shows the times of hate/ sorrow and heart ache of the turbulent times of the last half of the 20th century.
This signed, lower right "Leo Russell" and numbered, lower left 155/ 200 in pencil print is strong and moving piece. The piece is called "Imperious Exaltation" and measures in the frame 27" x 23 1/2". The mat size is 24" x 20".
The back cardboard is very interesting with an explanation of "Exalt" in pen. I have photographed back to give you a better translation than I can, but it reads:
" Exalt
Meditate uplifting to raise up or elevate in rauck ( I can not decipher this word), honor or power, dignify glory or Dignify, Glorify urgent overmastering need-
one which cannot be withstood imperative"
PLEASE NOTE I HAVE DONE MY BEST TO TRANSLATE BUT I WILL LEAVE THIS UP TO YOU TO TRANSLATE FROM THE PHOTOGRAPH
The left side of has Hopewell Gallery and in the same marker there is 71 in a circle.

This is a great piece of art by Leo Russell. I have not taken the piece out of the frame; this is how I had the piece. If you have any questions or need additional photos, please feel free to email me.

Detail photos Click to enlarge