⬅ Return to collection
Jewelry : Mid Century Design : Mid-century
This item has been sold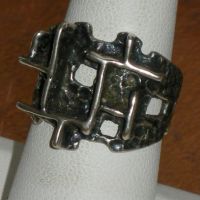 Silver Modernist Ring Attribuated to Rachel Gera Mid Century Design Jewlery
A wonderful collection of mid century jewelry will be posted on the site.
Please let me know if you see anything!

Artist: Unsigned: attributed to Rachel Gera
Condition: Near Fine, slight wear
Date: Circa 1970's-80's
Material: Silver, unmarked

Rachel Gera was a Israel artist who's modernist art inspired many others. Her pieces were bold, almost Brutalist designed with strong drastic angles.

If you have any questions or need additional information, please feel free to email me.



Detail photos Click to enlarge