⬅ Return to collection
[uncategorized]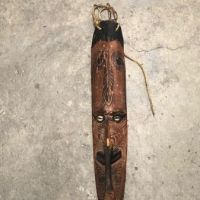 Spirit Sepik Mask Papua New Guinea Circa 1960s from Middle Sepik River Area with Cowrie Shell Eyes
Spirit Sepik Mask Papua New Guinea circa 1960s. These Tall thin ceremonial masks were tributes to their ancestors. These marks are from the Middle Sepik River area of Papua, New Guinea and are referred to as Sepik masks. These masks were meant to be hung, not worn like other masks.
We all know the Papua New Guinea headhunter stories and I even know some collectors who have rare shrunken heads from the region. Not only are these a prize for some collectors but the other items, masks, fetishes and other ceremonial and war weapons are collectable. This piece is from circa 1960's and was bought not plundered like many items of ethnographic items. By the mid to last quarter of the 20th c., the region was fully colonized and like many areas was a travel destination and billed as the "wild" and "exotic". So with the invasion of tourism, the tribes turned to selling items, much like the Native Americans did during the early 20th c. at train depots and train stops out west.
This is not a plundered or stolen item.
Like the previous entry, the Cassowary Bone Dagger, this mask is from the same collection and acquired around the same time.
The long thin mask are spirit masks used to scare off spirits and to attract good strong spirits, these masks are of the Papua New Guinea's ancestors. highly decorated and painted with facial tattoos. This mask reminds me of The Great Omi, the famous sideshow performer of the 1930's. "A common monologue claimed that he had been captured and tortured via tattooing in New Guinea; this was similar to tales told by other tattooed sideshow performers."
The eyes have Cowrie Shell Eyes and the wood is painted with a red, ox blood color.
Size" approx 19" tall
Condition: fine with a portion of the noise being chipped and damaged. Light wear and fade to the paint. Overall shows some aging. Please see the images for more details.

If you have any questions or if you need more images please feel free to contact me.
NOTE:
The price listed is for US. If you are an overseas buyer please email me your shipping address before purchase to get a shipping quote.
Detail photos Click to enlarge