⬅ Return to collection
Antique Accessories : Art : Mid-century
This item has been sold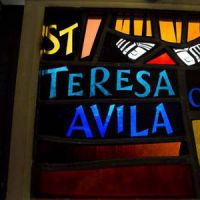 St Teresa of Avila Stained Glass from Portsmouth RI Church Made by Rambusch
A wonderful Stained Glass piece of St. Teresa of Avila. This section is approx. 24" x 24" and is of top grade work. Upon research and talking to the estate, I believe this piece is by the famous and prestigious Stained Glass co. Rambusch. I have some documents from Rambusch giving specs and amount of work for a church in Portsmouth Rhode Island called Mother of Hope Novitiate. I believe this piece is from that church and is an original Rambusch piece.
The stained glass is still in the original aluminum frame with the clear glass incasing the stained glass.
As you can see the quality and workmanship is breath taking, with the precision lead channel work and stenciling of the hand blown glass. A true piece of art that is up to the quality of Rambusch.
If you have any questions or need additional photos, please feel free to email me. Please contact me for a shipping quote.

Detail photos Click to enlarge