⬅ Return to collection
Black and White Silver Print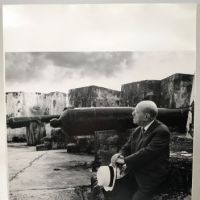 Stamped Signed Philippe Halsman Photograph of Pablo Casals 1965 Gallery Number on Back 11 x 14
Stamped Signed Philippe Halsman Photograph of Pablo Casals 1965 Gallery Number on Back, most likely from Franz Bader Gallery.

Franz Bader Gallery was the go to gallery in Washington DC for known and unknown artist. They represented international and national artist and was a place on the east coast to browse and buy art and art collections. My client, was represented and sold his pieces and they also bought pieces that came into the gallery, like this very nice Philippe Halsman photograph.
Philippe Halsman was.. "From the 1940s through the 1970s, Philippe Halsman's sparkling portraits of celebrities, intellectuals, and politicians appeared on the covers and pages of the big picture magazines, including Look, Esquire, the Saturday Evening Post, Paris Match, and especially Life. His work also appeared in advertisements and publicity for clients like Elizabeth Arden cosmetics, NBC, Simon & Schuster, and Ford. Photographers, amateur as well as professional, admired Halsman's stunning images. In 1958, a poll conducted by Popular Photography named Halsman one of the "World's Ten Greatest Photographers" along with Irving Penn, Richard Avedon, Ansel Adams, Henri Cartier-Bresson, Alfred Eisenstaedt, Ernst Haas, Yousuf Karsh, Gjon Mili, and Eugene Smith. Altogether, Halsman's images form a vivid picture of prosperous American society in the middle years of the twentieth century." (from the Smithsonian Institute website)
His most famous piece and a lasting friendship was with Salvador Dali, taking is image created the stir and buzz about the artist and also started a long lasting friendship between the two artist.
This large photograph, 11 x 14 has the top section uncut. The image of Pablo Casals, dated on the reverse 1965 was a series the artist did on the famous Catalan Cellist, composer and conductor. The musical dies in 1973, this series was done a few years before the maestro's death.
Stamped on the back with the copyright by Philippe Halsman as well as a stamped signature of the photographer. Below the stamp is a hand written title of Pablo Casals, 1965, done by the photographer's hand.
Bottom right has AS-302, and appears to be the gallery number of Franz Bader. Please see the images of the detail.
Size: 11 x 14

Condition: very fine with light bumps at the corner from storage. No damage to the front or back of the photograph. The photograph is unframed and not mated. Please see the images for more details.
If you have any questions or need additional information, please feel free to contact me.

Note:
Overseas buyers please email me for shipping quote, please provide me with a shipping address and postal code.
Detail photos Click to enlarge