⬅ Return to collection
Art : Vintage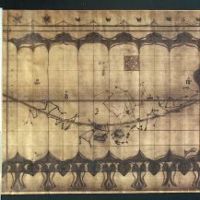 Stephen Ligosky Signed Astrological Mystical Zodiac Art with Vitruvian Man Blueprint Edition 1970 Detroit Underground 60's Artist
Stephen Ligosky signed Astrological Zodiac Art with Vitruvian Man
Stephen Ligosky was part of the Detroit Underground scene, the times with music and art and culture were one, one because the scene was so small and focused and inclusive. We know of the Stooges and their big brother band, MC5 but there were those that chose visual art over the amplifier but in the end it was about the expression and action and lines and distinctions flowed together. Wasn't the sonic assault of the Stooges an expression? Wasn't the stage just an action painting, a one off and not knowing what you or the audience would do or receive?

I spoke via text with Ligosky, he confirmed that yes, this was one of his pieces. The art is pen signed and dated and also signed in the blue print. I asked him when he did Blue Print of this, she said it was originally was 4x as big as this piece, already this is 82 inches long x 37 inches tall.

Ligosky said he did this piece for some an astronomer friend when he lived in San Francisco and he did these Blue Print edition, for other astronomer friends. He said.."They were made for some astrologers I knew. They would place the planets along the ecliptic so you could see the configuration."

This is one of the most striking pieces I have seen in awhile, the blend of mysticism and astrological and the use of Da Vinci's Vitruvian Man bridging the meaning or bringing man into the cosmos wonders.
Take it in and look at this piece, you too will be drawn in.
Size: 82 inches long x 37 inches tall
Condition: Very fine, some very light chipping at the edges of the paper, not affecting the image. The blue print paper is fragile and has remained in very good condition. It has been rolled and stored since my clients mother brought it back from San Francisco.
Please see the images for more details.
NOTE
This item is from the same estate of the Ron Cobb Collection and Ed Badajos Collection.
If you have any questions or if you need additional images, please feel free to email me.

Note:
shipping cost is for US only, if you are an over seas buyers please email me your shipping address to get a shipping quote.
Detail photos Click to enlarge