⬅ Return to collection
Stereoviews
This item has been sold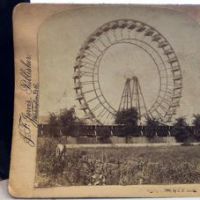 Stereoscopic A. F. Jarvis Publisher 1903 Stereocard Ferris Wheel World's Fair Chicago
A wonderful image of the famous George Ferris designed and created first ever Ferris Wheel for the Chicago World's Fair of 1893.
This monumental and first ever creation created such a huge sensation that people came from around the country and world to behold Ferris's answer and to out do Paris's Eiffel Tower.

Stereo Card published by A. F. Jarvis
Image mounted to card.

Size: 3 1/2 x 7 inches
Condition: fine with edge bumps and slight fade to image.

If you have any questions or if you need additional images, please feel free to contact me.

Detail photos Click to enlarge