⬅ Return to collection
Stereoviews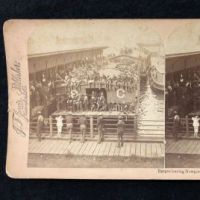 Stereoview of Soldiers Leaving On Barge to Puerto Rico 1898 J. F. Jarvis
Barges Leaving Newport News for the Transport Ship Bound for Porto (Puerto) Rico Stereoview
Publisher: J. F. Jarvis
Year: 1898

"The Puerto Rican Campaign was an American military sea and land operation on the island of Puerto Rico during the Spanish–American War. The offensive began on May 12, 1898, when the United States Navy attacked the capital, San Juan. Though the damage inflicted on the city was minimal, the Americans were able to establish a blockade in the city's harbor, San Juan Bay. On June 22, the cruiser Isabel II and the destroyer Terror delivered a Spanish counterattack, but were unable to break the blockade and the Terror was damaged."

Size: 3 1/2 x 7 inches
Condition: Very Fine, sharp image with great detail, minor paper snap on the left side, please see images for details.

If you have any questions or if you need additional images, please feel free to email me.
Note:
shipping cost is for US only, if you are an over seas buyers please email me your shipping address to get a shipping quote.
Detail photos Click to enlarge