⬅ Return to collection
Antique Accessories : Jewelry : 1900-1940s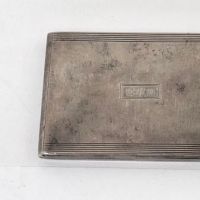 Sterling Silver R. Blackinton & Co. Cigarette Case Hand Rolled 108.3 grams
R. Blackinton & Co. Sterling Silver Cigarette Case. Initialed on top with EWN in square cartouche.
Stamped on the inside with sterling silver and the hallmark for R. Blackinton & Co on the center bar.
R. Blackinton & Co; 1862-1967 this Massachusetts company made novelty, flatware and some hollowware items.

A stylish and very nice simple design to the bygone era of hand rolled cigarettes but now with the increase popularity of jazz cigarettes, for you none hip people I am taking about Marijuana. No enjoy your prerolled or roll your own and use this great Sterling Silver case.
The inside of the case is very elegantly designed with a guilloche.
"Guilloché is a decorative technique in which a very precise, intricate and repetitive pattern is mechanically engraved into an underlying material via engine turning, which uses a machine of the same name, also called a rose engine lathe."
Size: 3 x 4 1/8 x 1/4 thick
Weight: 108.3 grams
Condition: Light bumps and and light wear from age. Top and back are slightly bent in. Hinge and clasp is working fine with inside bar in very fine condition. If you have any questions or need more images, please feel free to contact me.
Note:
shipping cost is for US only, if you are an over seas buyers please email me your shipping address to get a shipping quote.
Detail photos Click to enlarge