⬅ Return to collection
[uncategorized]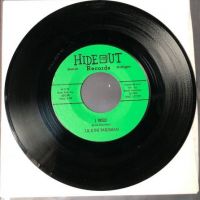 T R & the Yardsman I Tried b/w Movin' Up on Hideout Records Detroit Garage Single from 1965
T R & the Yardsman I Tried b/w Movin' Up on Hideout Records – H-1105.
This 1965 single is their one and only and I Tried is such a great single. The label, Hideout Records, founded by Dave Leone and Punch Andrews as an adjunct to the Hideout teen clubs they ran in suburban Detroit, Michigan. Mainly active in the late 1960s. The label would release a great Pete Seger garage single in 1966 and 1967.
Detroit could always deliver the great garage!!!
Listen Here
SIDE 1

SIDE 2

Condition: Vinyl is high VG+, beautiful and very clean looking copy on both sides. Plays with a couple and very faint and sometimes low crackle sometimes heard. Close to NM has you can get. Both sides play equal. Label is near perfect and clean. Sleeve is generic white.
If you have any question or need additional images, please feel free to contact me.

NOTE:
International orders. Shipping will be $18. Please contact me before purchase if you are an International buyer. I will need to adjust the shipping price to reflect a correct shipping cost to you.
Detail photos Click to enlarge