⬅ Return to collection
Mid-century
This item has been sold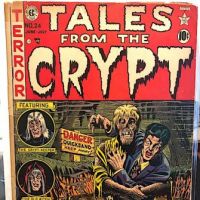 Tales From The Crypt No. 24 June 1951 EC Comics Cover by Al Feldstein Pre Code Horror Comic
Tales From The Crypt No. 24 June 1951 EC Comics
**Sames Estate as the other Pre Code Comics listed**
Title: Tales From The Crypt No. 24
Date: June 1951
Pub by EC Comics
Condition: The cover has tape on the spine side and small chip on lower right and some areas of wrinkles. The Back has some tape on the spine areas. The top and bottom edge has chipping in ares. The Binding is right, one has a tear on the right
If you need more image please tell me what areas you need photographed.
"Cover by Al Feldstein. "Bats In My Belfry!", script by Al Feldstein, art by Jack Davis; An actor loses his hearing, so he goes to visit an unorthodox individual that a friend tipped him off to; This person recommends transplanting the auditory senses of a bat. "The Living Death!", script by Al Feldstein, art by Graham Ingels; Two doctors are in love with the same woman; she develops a tumor on her heart; Dr. Manning operates on her, but she dies. "Curse!" text story. "Midnight Snack!", script by Al Feldstein, art by Johnny Craig; Duncan Reynolds is reading horror stories when he gets hungry, and suddenly finds himself in front of a restaurant that is serving up foul-smelling food. "Scared To Death!", script by Al Feldstein, art by Wally Wood; A man weds a woman to secure her uncle's fortune when he dies, but gets tired of waiting so convinces his wife to be an accomplice to her uncle's murder. 36 pgs., full color."
If you have any questions or need additional information, please feel free to contact me.
Noted:
Over seas buyers please email me for shipping quote, please provide me with a shipping address and postal code.
Detail photos Click to enlarge