⬅ Return to collection
Mid-century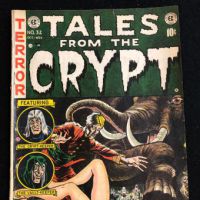 Tales From The Crypt # 32 1952 EC Comics Cover By Jack Davis Precode Horror
**Sames Estate as the other Pre Code Comics listed**

Title: Tales From The Crypt # 32
Date: 1952
Pub by EC Comics
Cover by Jack Davis

Condition: Front cover has a seam split on the bottom edge, cover shows wear at the staples and some soiling and small tears at the right side in areas Cover is firmly attached. No marks inside. The back cover is loose but attached and inside back cover has chip on the bottom edge and is pulled at staples making the back cover starting to be loose. Back cover has soiling on the spine edge and shows some wear. If you need more image please tell me what areas you need photographed.

"Taint the Meat...It's the Humanity!", script by Al Feldstein, art by Jack Davis; A butcher during the war gets around rationing points by selling steak to the wealthy customers who will pay cash for it and horsemeat, then stale meat and finally tainted meat to everyone else. "Roped In!", script by Al Feldstein, art by George Evans; Three business partners in construction make a patsy out of a fourth to take the blame for shoddy construction of a hospital that collapses and kills twenty-one patients. "Curse!" text story. "Cutting Cards!", script by Al Feldstein, art by Fred Peters; Two professional gamblers hate each other so much that they challenge each other to a game of chop poker. "Squash...Anyone?", script by Bill Gaines (co-plot) and Albert B. Feldstein (co-plot, script), art by Graham Ingels (as Ghastly); An elephant trainer whose performance entails having the animal raise its foot an inch above his beautiful wife-assistant's face is having an affair with a woman who convinces him to have the elephant crush the wife and have the elephant shot blaming the death on the elephant. 36 pgs."

If you have any questions or need additional information, please feel free to contact me.

Noted:
Overseas buyers please email me for shipping quote, please provide me with a shipping address and postal code.

Tales From The Crypt # 32 1952 Published By EC Comics Cover By Jack Davis.
Detail photos Click to enlarge