⬅ Return to collection
Mid-century
This item has been sold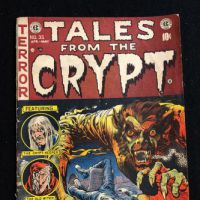 Tales From The Crypt # 35 1953 Published by EC Comics Cover by Jack Davis Precode Horror
**Sames Estate as the other Pre Code Comics listed**

Title: Tales From The Crypt # 35
Date: 1952
Pub by EC Comics
Cover by Jack Davis

Condition: Front Cover has bold colors, the left side has some pulling at the staples and marks and wear. The Cover is attached. Small chipping on the bottom and top corners. The inside is clean and in good shape but small tear on the bottom on several pages. The Back cover is good with some soiling to the back and some binding wear. Small tear on the bottom edge. There is a small strip of tape on the inside of the back and front cover. NOT on the outside but on the inside seam. Please see the images for details.
If you need more image please tell me what areas you need photographed.

""By the Fright of the Silvery Moon!", script by Al Feldstein, art by Jack Davis; After two men are found torn apart on the night of a full moon, the sheriff of a small American farm community seizes a man who has arrived from Hungary with his two sons and has him shot, believing him to be a werewolf. "Midnight Mess!", script by Al Feldstein, art by Joe Orlando; A man visits his sister in a small town where people get off the street and close up shop before sundown due to a recent spate of seventeen vampire killings, but scoffs at the idea as the work of a homicidal maniac as vampires don't exist. "The Rack" text story. "Busted Marriage!", script by Al Feldstein, art by Jack Kamen; A man has voodoo dolls made as wedding cake figures in order to get a wealthy woman to marry him. "This Wraps It Up," script by Bill Gaines (co-plot) and Albert B. Feldstein (co-plot, script), art by Graham Ingels (as Ghastly); Three archeologists, one with a bad heart (Munson), uncover the tomb of the 5th Pharoah of Egypt with a large treasure. 36 pgs."

If you have any questions or need additional information, please feel free to contact me.

Noted:
Overseas buyers please email me for shipping quote, please provide me with a shipping address and postal code.

Detail photos Click to enlarge