⬅ Return to collection
Vintage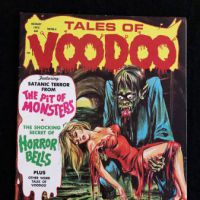 Tales of Voodoo Vol. 5 # 5 August 1972 Published By Eerie Horror Comic Cover by Bill Alexander
** Same Estate as the other Horror Comics**

Title: Tales of Voodoo Vol. 5 # 5
Date: August 1972
Published by Eerie
Condition: The Cover is VG + with a very small pull at the staples. Tight binding and no marks. The back cover is near mint. If you need more image please tell me what areas you need photographed.

Size: 8 1/2-in. x 11-in., 48 pages

Cover by Bill Alexander. Stories and art by Carl Burgos, Ruben Marchionnne, Ezra Jackson, Alberto Macagno and Walter Casadei. Legendary publisher Eerie's fondly remembered tales of horror and the macabre, many "reanimated" from classic pre-Code horror comics with new art. An evil scientist unleashes flesh-eating bacteria upon the world. A hunchbacked bell-maker reveals his grisly secret method for producing the best bells. A stage magician practices the latest trick he's picked up and ends up in an alternate dimension full of monsters. The Flesh Eaters; The Horror Bell; MS Found in a Bottle; Pit of Monsters; Flaming Ghost; The Empty Coffin; Terror of the Dead; The Zombies Vault.

If you have any questions or need additional information, please feel free to contact me.

Noted:
Overseas buyers please email me for shipping quote, please provide me with a shipping address and postal code.
Detail photos Click to enlarge