⬅ Return to collection
1st Edition : Modern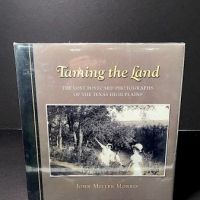 Taming The Land Lost Postcard Photographs of the Texas High Plains by John Miller Morris Hardback SEALED
Taming The Land Lost Postcard Photographs of the Texas High Plains by John Miller Morris
Hardback edition still SEALED in shrink wrap.
Published by Texas A&M
Year: 2009

From the Publisher:
"A postcard craze gripped the nation from 1905 to 1920, as the rise of outdoor photography coincided with a wave of settlement and prosperity in Texas. Hundreds of people took up cameras, and photographers of note chose some of their best work for duplication as photo postcards—sold for a nickel and mailed for a penny to distant friends and relatives. These postcards, which now enjoy another kind of craze in the collecting world, left what author John Miller Morris calls a "significant visual legacy" of the history and social geography of Texas. For more than a decade, Morris has been finding and studying the photographers and methodically gathering their postcards. In Taming the Land, he shares those finds with readers, introducing each photographer and providing interpretive descriptions of the places, people, or events depicted in the photographs. The stories the cards tell—in the images captured and the messages carried—add an exceptional dimension to our understanding of life in rural Texas a century ago. Taming the Land presents postcards from twenty-four counties in the booming Texas Panhandle. This is the first book in a set called Plains of Light, which will collect and document turn-of-the-twentieth-century photo postcards from all over West Texas."
Size: 11.3 x 1 x 12.2 inches
Condition: Mint, still sealed edition in tight shrink. Light rubbing to the shrink, back of the book has small area where the shrink broke. In As New condition. Please see the images for details
If you have any questions or if you need additional images, please feel free to email me.

Note:
shipping cost is for US only, if you are an over seas buyers please email me your shipping address to get a shipping quote.
Detail photos Click to enlarge