⬅ Return to collection
Medical & Oddities : 1900-1940s
This item has been sold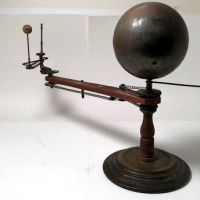 Tellurian Model Trippensee Planetarium Company mfg by Trippensee Planetarium Company  Circa 1900
Tellurian Model Trippensee Planetarium Company mfg by Trippensee Planetarium Company
Year: circa 1900
Unmarked but most likely by the Trippensee Planetarium Company, the seasons, months and zodiac on the base.
The Planetarium models have always been a quest for me and I have always wanted to have one to sell. This one is one of the most famous and not common but scarce, they always remain in collections. Now, to have one available for sale.
Made by the company Trippensee, the wooden maple arm has the geared planets.
The Model is missing the Earth and the Maker's Label, you can see the shadow of where the label was located. The Compass is still attached.
A description of the Trippensee Planetarium Model:
"…with a terrestrial globe rotating at the end of a maple arm, and with a black-and-white painted wood representation of the moon revolving the earth, both revolving around a central brass sphere representing the sun, and with a black-and-white painted wood representation of Venus also revolving the sun. The entire assembly is mounted on a turned maple central standard, set on a round, stepped and weighted brass base, with an inset circular zodiac dial. It has the maker's label and a small, round compass inset on the arm. When turned by hand by a metal post under the arm, the earth rotates, and the earth, moon and Venus revolve."

Condition: The earth is missing from this one, the other planets have paint loss. The movement and gears are fine with no damage and still rotates freely. Missing the Marker's Label, the shadow of the label is still present on the wood arm next to the compass. Please see the photos for details.
If you have any questions or if you need additional images, please feel free to email me.

Note:
shipping cost is for US only, if you are an over seas buyers please email me your shipping address to get a shipping quote.
Detail photos Click to enlarge