⬅ Return to collection
[uncategorized]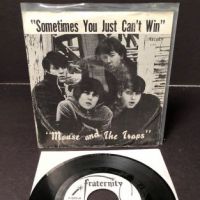 Texas Garage Mouse and The Traps Sometimes You Just Can't Win on Fraternity 1005 White Label Promo w/ Picture Sleeve
Mouse and The Traps Sometimes You Just Can't Win on Fraternity 1005 White Label Promo w/ Picture Sleeve.

Garage Psychedelic Rock band from Tyler, Texas, USA, formed 1965 and disbanded 1969.
This is the bands 1968 single and rare for garage bands, a Picture Sleeve.
On the records label Fraternity, an Ohio based label and record company originally opened in 1954. I am not sure how a Texas Garage band gets on an Ohio label.
Take a listen here:
SIDE 1

SIDE 2


Condition: Vinyl is low VG+, no tracking issues, slight distortion to high end and visually a couple hairlines but vinyl is still shiny luster. Both sides look and sound the same. Sleeve is low Vg+, light record impression and light rubbing to image and faint wrinkle at top. Back has light rubbing with light soiling from storage.
If you have any question or need additional images, please feel free to contact me.
NOTE:
International orders. Shipping will be $18. Please contact me before purchase if you are an International buyer. I will need to adjust the shipping price to reflect a correct shipping cost to you.
Detail photos Click to enlarge