⬅ Return to collection
[uncategorized]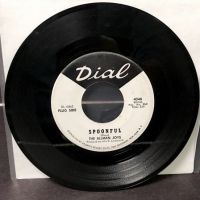 The Allman Joys Spoonful b/w You Deserve Each Other on Dial 4046 White Label Promo 1965 Allman Brothers
The Allman Joys Spoonful b/w You Deserve Each Other on Dial 4046 white label promo.
Before the Allman Brothers there was the garage band, The Allman Joys, Gregg and Duane Allman formed the band in 1965. The band had one single, a version of Willie Dixon's song, Spoonful. Not a British Invasion cover like many others of the time but this one is straight garage version, upbeat and fasted paced song with great fuzz guitar.
Listen Here
SIDE 1

SIDE 2


Condition: Vinyl is low Vg+, visual the vinyl is very clean with not marks, sound has very light crackle below the music and does not interfere with sound and no tracking issues on either side. SIDE 2 Sleeve is generic white.
If you have any question or need additional images, please feel free to contact me.
NOTE:
International orders. Shipping will be $18. Please contact me before purchase if you are an International buyer. I will need to adjust the shipping price to reflect a correct shipping cost to you.
Detail photos Click to enlarge