⬅ Return to collection
Mid-century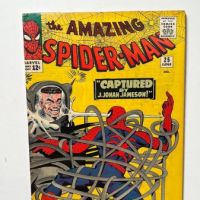 The Amazing Spiderman #25 (1st series) June 1965 published by Marvel Very Clean Beautiful Copy
**Sames Estate as the other Pre Code Comics listed**
The Amazing Spiderman #25 (1st series) June 1965 published by Marvel.
Title: The Amazing Spiderman #25 (1st series)
Date: June 1965
Pub by Marvel
"Cover art by Steve Ditko. First appearance of Mary Jane Watson (cameo; face not shown) in "Captured by J. Jonah Jameson," script by Steve Ditko (plot) and Stan Lee (script), art by Steve Ditko; As Peter goes to sell pictures of a crime to J. Jonah Jameson, an inventor named Smythe comes in with a robot guaranteeing the destruction of Spider-Man; Since Peter needs money bad, he eggs Jameson on to hear out the wacky inventor; Smythe shows how his robot instantly shoots out steel tentacles at the hint of a spider's presence and grabs a hold of Peter, much to his surprise; Jameson is given a remote control and they agree to a deal; Betty is furious with Peter for trying to trap Spider-Man, not understanding his true reasons; Peter shows up at school and has Flash Thompson waiting to fight him as he hangs around Liz Allan too much to his liking; As Peter exits school, he sees the robot and begins to run; Flash, thinking he's running away from a fight runs after Peter; First appearance of Spencer Smythe. Reprinted in Marvel Tales #20 and #163. 36 pgs., full color. Cover price $0.12"
Condition: Cover is condition is very clean and crisp. Printing black on front, not from use or wear but from the printing. The colors are bold and the cover is very crips. Top left on spine has faint bump and very minor and light pulling at the staples. Back is very nice with only a faint soil on the right edge. Binding is tight and secure and the pages are crisp with no signs of use, the colors are very strong and bold.
If you have any questions or need additional information, please feel free to contact me.
Noted:
Over seas buyers please email me for shipping quote, please provide me with a shipping address and postal code.
Detail photos Click to enlarge