⬅ Return to collection
1st Edition : Out Of Print : Mid-century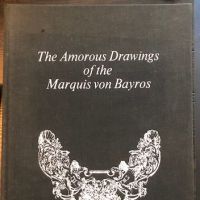 The Amorous Drawings of the Marquis von Bayros 1968 Ed Cythera Press Hardback 1st Edition Erotica Book
The Amorous Drawings of the Marquis von Bayros
Year: 1968
Published by Cythera Press
Hardback edition with black cloth and white lettering binding. No Dust Jacket. 240 pages.
All the images are Black and White and are grouped together by publications with details of years and illustrations for each.

The images range from tame to over the top and represent the artist and his career as an illustrator erotica and many taboo subjects some then and many now.
NOTE: I have only photographed some pages, ones that are mild in comparison to other illustration.
Marquis von Bayros…"Franz von Bayros (28 May 1866 – 3 April 1924) was an Austrian commercial artist, illustrator, and painter, best known for his controversial Tales at the Dressing Table portfolio. He belonged to the Decadent movement in art, often utilizing erotic themes and phantasmagoric imagery."
Size: 10 1/8 x 13 inches
Condition: The binding is tight with some light signs of use and wear. No Dust Jacket.
The black cloth hardcover has white embossed lettering which is is very good condition with light wear on the spine letter and some some fading. The Front cloth has some soiling at the top and some fading. The spine has fading. Edge of the paper has slight discoloring from age and dust. Please see the images for more details.
NOTE: The price for shipping is for US buyers only. If you are an overseas buyer please contact me before purchase to get a shipping quote. Please provide me with your shipping address.
Detail photos Click to enlarge