⬅ Return to collection
Art : 1700s
This item has been sold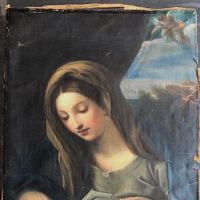 The Annunciation The Madonna Reading After Carlo Maratta Oil on Canvas Circa 1800 Collector Seal on Back
The Annunciation The Madonna Reading After Carlo Maratta OIl Painting
The Annunciation The Madonna Reading After Carlo Maratta oil on canvas
Year: Circa 1800
Wax Mark on back of the canvas and
Carlo Maratta (born Camerano, May 15, 1625- died Rome December 15 1713) was a Baroque artist from Italy. After the death of Bernini, Maratta became one of the top artist is Italy
The Madonna Reading a Book with the angel Gabriel on the top right of the madonna is a scene of the Annunciation, which is "celebration of the announcement by the Archangel Gabriel to the Blessed Virgin Mary that she would conceive and become the mother of Jesus".
The Canvas is not signed or dated, the canvas is a linen canvas making the painting a early school of Maratta. The red mark on the back of the canvas is a Red Wax Seal, which was a way to identify the painting to a collection or a collector.
Next to the Wax Seal is a Stamp, these stamps were also stamps of Collectors. I have not found this stamp in any database.
Size: 24 1/4 x 28 3/4 inches
Condition: the painting is not on stretchers and has not been altered. The canvas is as you can see at the edges frayed and is fragile. Some paint loss in the top right area, near Saint Gabriel. The painting has not been cleaned or altered.
If you have any questions of if you need more images, please feel free to contact me.

Note:
Over seas buyers, please contact me with your shipping address to get you a shipping quote.
Detail photos Click to enlarge