⬅ Return to collection
[uncategorized]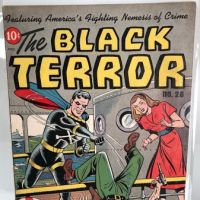 The Black Terror No. 26 April 1949 Published by Better Comics Schomburg Cover
**Sames Estate as the other Pre Code Comics listed**
Title: The Black Terror No. 26
Date: April 1949
Published by Better Comics
"Edited by Ned Pines. Cover by Alex Schomburg. Stories by George Tuska, Jerry Robinson, Mort Meskin, Charles S. Strong, H.
R. Karp, Irving Karp, and Art Helfant. Action-packed tales featuring such characters as Flush Bradley and the Black Terror, a
super strong super-hero. 36 pages, full color."
According to online source: "The Black Terror is a fictional comic book superhero who originally appeared in Exciting Comics #9, published by Nedor Comics in January 1941. The character was popular, and on the strength of the Black Terror's sales, Nedor made Exciting Comics a monthly magazine starting with issue #11 (July 1941). The Black Terror was the most popular superhero in Nedor's stable, and appeared in a quarterly solo comic book as well as the lead feature in America's Best Comics and Exciting Comics until 1949. Some Black Terror stories were written by Patricia Highsmith before she became an acclaimed novelist. The character has been revived by various publishers over the years, including AC Comics, Eclipse Comics, America's Best Comics, and Dynamite Entertainment."
Condition: The cover is a strong Vg+ with only lower right
having a small edge bump, Bold and crips color cover with minimal signs of use. The Back has small discoloring on the bottom,
slight soiling and a some staining in the center. The Binding is tight and the colors are very good and minimal signs of use.
If you have any questions or need additional information, please feel free to contact me.
Note:
Over seas buyers please email me for shipping quote, please provide me with a shipping address and postal code.
Detail photos Click to enlarge