⬅ Return to collection
[uncategorized]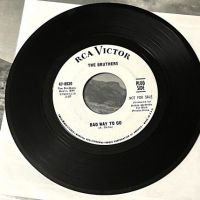 The Bruthers Bad Way To Go on RCA 47-8920 White Label Promo Pearl River New York Garage Band 1966
The Bruthers Bad Way To Go on RCA 47-8920 White Label Promo.
The band was from Pearl River New York, and the band was made up of four brothers. They recorded several songs for RCA records, of which, "Bad Way to Go" is the best known which ended up on Pebbles Vol 8.
The band was on RCA and were managed by Sid Bernstein who promoted The Beatles at Shea Stadiums.
The band had one single release in 1966 on RCA.
Listen Here
SIDE 1

SIDE 2


Condition: Vinyl is solid VG+, shiny luster and sounds great, a low only faintly heard sometimes crackle. SIDE 2 has light crackle at start and goes low below music but can be slightly heard No tracking issues or marks on either side and labels are clean but have slight marks from storage. Sleeve is generic white.
If you have any question or need additional images, please feel free to contact me.
NOTE:
International orders. Shipping will be $18. Please contact me before purchase if you are an International buyer. I will need to adjust the shipping price to reflect a correct shipping cost to you.
Detail photos Click to enlarge