⬅ Return to collection
[uncategorized]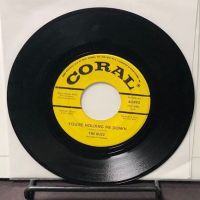 The Buzz You're Holding Me Down on Coral 62492 PROMO SIDE B has Joe Meek Song with Phil Black MCA Sticker
The Buzz You're Holding Me Down on Coral – 62492 PROMO
A 1960's group, with a B/side of Joe Meek. That side has MCA sticker with Phil Black.
Listen to the tracks:
SIDE 1

SIDE 2

If you have any questions or if you need additional images, please feel free to contact me.

Note:
Over seas buyers please contact me before purchase with postal code to get a shipping quote. Shipping cost posted is for Domestic shipping only.
Condition: Vinyl is VG, marks on both sides, plays with light surface and crackle low but can be heard and pop pop for a few secs, but still good life left in the record, no tracking issues. SIDE 2 plays equal to SIDE 1, label has MCA Music sticker of Phil Black. Sleeve is generic white.
Detail photos Click to enlarge