⬅ Return to collection
[uncategorized]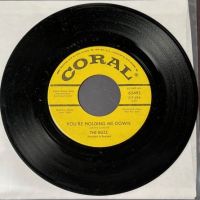 The Buzz You're Holding Me Down on Coral Promo UK Beat Group US Single
The Buzz You're Holding Me Down on Coral – 62492 Promo.
The Buzz You're Holding Me Down b/w I've Gotta Buzz on Coral 62492 Promo.
Mid-1960 beat group that featured Tam White and Johnny Turnbull, both ex-Boston Dexters. the B-side is a great Joe Meek song.
Listen Here
SIDE 1

SIDE 2


Condition: Vinyl is mid Vg+, has faint crackle, very low but sometimes a quick crackle can be heard at or below the music. Great tones and very clean sounding. Visually, no marks on the either side and both labels are near perfect. No tracking issues on either side. Sleeve is generic white.
If you have any questions or if you need additional images, please feel free to email me.

Note:
shipping cost is for US only, if you are an over seas buyers please email me your shipping address to get a shipping quote.
Detail photos Click to enlarge