⬅ Return to collection
[uncategorized]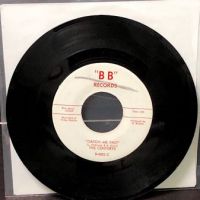 The Centurys Catch Me Fast / And I Cried on BB Records Garage Legends from Pennsylvania Circa 1967
The Centurys Catch Me Fast / And I Cried on BB Records – B-4002.
The band is one of the top garage band in collecting, and the song Catch me Fast has been on countless garage comps. The band was Lebanon, Pennsylvania with Catch Me Fast being their last single, released on BB Records in circa 1966. BB Records was mid 60's label with releases that seem to be mostly garage.
The band recorded for Swan, an early Beatles label in America as well as a York Pa label called Renco which was more a Country label.
Listen to the great The Centurys
SIDE 1

SIDE 2

Condition: Vinyl is Solid VG+, has a hint of surface below the music, very clean looking and sounding pressing. Label has mark at top, a line across name of Label. SIDE 2 has a tiny crackle at start but goes away and plays equal to SIDE 1. Sleeve is generic white.
If you have any question or need additional images, please feel free to contact me.
NOTE:
International orders. Shipping will be $18. Please contact me before purchase if you are an International buyer. I will need to adjust the shipping price to reflect a correct shipping cost to you.
Detail photos Click to enlarge