⬅ Return to collection
[uncategorized]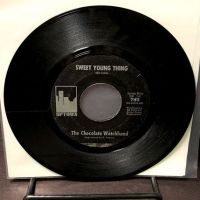 The Chocolate Watchband Sweet Young Thing b/w Baby Blue on Uptown 740 Remastered "RE" on Labels and Matrix
The Chocolate Watchband Sweet Young Thing / Baby Blue on Uptown – 740. Remastered "RE" on labels and etched into matrix.
The band started in the mid 1960's , circa 1965 from San Jose Cal and had a great Psych garage heavy fuzzed guitar with a good blend of snarl and a edge like the Stones had. Listen the B side you can hear it!
This is the bands third single and both sides are equally as good! Of course SIDE 2 is a cover and they do a great Rolling Stones amped up version of the Dylan Song.
Uptown was a subsidiary label, started in 1965, of Tower which was the smaller label for garage and unknown bands that Capital Records had.
SIDE 1

SIDE 2

Condition: Vinyl is visual VG but plays closer to low VG+, sound has very low and light crackle below the music but great tones and sounds great, but a sometimes low crackle heard. SIDE 1 visual has slight damage to edge of label, faded area. Vinyl has mark across the record but does not affect the tracking and surface marks. SIDE 2 starts with surface but drops as song plays on, by middle the song is equal or slightly lower than SIDE 1. Sleeve is Generic white.
If you have any questions or if you need additional images, please feel free to email me.

Note:
shipping cost is for US only, if you are an over seas buyers please email me your shipping address to get a shipping quote.
Detail photos Click to enlarge