⬅ Return to collection
[uncategorized]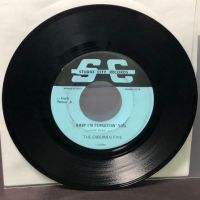 The Embermen Five My Love For You Won't Die / Baby I'm Forgettin' You on Studio City Records 1967 Garage Single
The Embermen Five – My Love For You Won't Die / Baby I'm Forgettin' You on Studio City Records – 7-80888.
The Embermen Five.."From Minot, ND. Formed as an insrumental band named The Demensions in 1963. Changed their name to The Embermen Five and added vocals in 1964. Added horns in 1968 and broke up in 1969"
Studio City Records had a string of great 45's but this one by the Embermen Five is fantastic. The band released three singles on this label before moving to another label for the last single in 1968 but the early Studio City Records singles are fantastic.
Take a list to both Tracks Here:
SIDE 1
SIDE 2

Condition: Vinyl is VG, SIDE 1 plays with slight surface, low but can be heard, but not overpowering. Visual, the record looks great. NO tracking issues. SIDE 2, sounds amazing and is very clean sounding with a sometimes light crackle, very low and very faint. SIDE 1 has writing on the label in red, SIDE 2 has light label wear, very light. Sleeve is generic white.
If you have any question or need additional images, please feel free to contact me.
NOTE:
International orders. Shipping will be $18. Please contact me before purchase if you are an International buyer. I will need to adjust the shipping price to reflect a correct shipping cost to you.
Detail photos Click to enlarge