⬅ Return to collection
1st Edition : Modern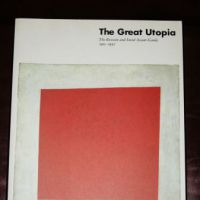 The Great Utopia The Russian and Soviet Avant-Garde 1915-1932 Softcover 1992 Published by The Guggenheim Museum
Title: The Great Utopia- The Russian and Soviet Avant-Garde, 1915-1932
Over Sized Soft Cover
Year: 1992
ISBN: 9780892070961
Published by: The Guggenheim Museum

Exhibition Catalogue for major exhibition at the Guggenheim, covering the major works of art of the this highly influential period in modern art. 732 pages of color and black and white images with major critical writing on the time and art and artist of the this movement. An amazing book!
"One of the largest volumes ever published on the subject, this impressive study accompanies the largest exhibition ever mounted at New York's Guggenheim Museum, a sweeping survey of the development of the avant-garde in Russia just before and in the first generation after the Bolshevik revolution. 21 essays by some of the world's leading scholars explore the diverse and complex concepts of Tatlin, Malevich and their contemporaries, attemptingto create a "people's art" that would complement the new Soviet society, and the events that led to Stalin's crackdown on modernism in the 30's. Over 700 full-color reproductions. 728p."

Size: 9 1/4 x 12 x 2 1/4 inches thick

Condition: almost new condition, from a major art book collection, no signs of use. No soiling to the front of back white soft cover. Please see photos for details.

If you have any questions or if you need additional images, please feel free to contact me.

NOTE:
International orders will need additional shipping cost on this over sized items. Please contact me before shipping.
Detail photos Click to enlarge