⬅ Return to collection
[uncategorized]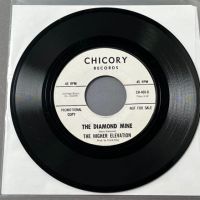 The Higher Elevation The Diamond Mine b/w Crazy Bicycle on Chicory Records 1967 Psych Garage Colorado
The Higher Elevation The Diamond Mine b/w Crazy Bicycle on Chicory Records CH0408 , white label promo.
A early psych band from Greeley, Colorado that had their first release in 1967, this single on Chicory. Other singles would be on the great Liberty Record label. Chicory was a small Denver Colorado.
The A side has been on numerous comps like Greg Shaws Pebbles, vol 2.
SIDE 1

SIDE 2


Condition: Vinyl is high VG+, sounds great, a tiny crackle heard very low and sporadicly. A couple very low lower crackles heard in quiet parts. SIDE 2 plays great with no tracking issues. Occasionally, faint crackle heard below the music but very minor. Great tones and sounds overall. Labels are low NM-, SIDE 1 has a tiny and very faint rubbing at high point from storage, B side is NM-. Sleeve is generic white.
If you have any questions or if you need additional images, please feel free to email me.

Note:
shipping cost is for US only, if you are an over seas buyers please email me your shipping address to get a shipping quote
Detail photos Click to enlarge