⬅ Return to collection
Art : Mid-century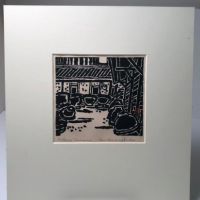 The Highly Collectable Un'ichi Hiratsuka Pencil Signed Woodblock Titled Pottery Tokoname Circa 1960s
The highly collectable and sought after Japanes artist Un-ichi Hiratsuka Pencil Signed and Titled Woodblock print, circa 1960s
"Un'ichi Hiratsuka (November 17, 1895 – November 18, 1997), born in Matsue, Shimane, was a Japanese woodblock printmaker. He was one of the prominent leaders of the sōsaku hanga ("creative print") movement in 20th century Japan. Hiratsuka's father was a shrine carpenter, and his grandfather was an architect who designed houses and temples. Therefore, the artist was introduced to wood-working and architecture early in his life. Hiratsuka was the best–trained woodcarver in the sōsaku hanga movement. From 1928 onwards he taught the renowned sōsaku hanga artist Shikō Munakata (1903–1975) wood carving. The same year he joined with seven other like-minded artists to work on the 100 Views of New Tokyo series, to which he contributed twelve prints; his prints were lauded for their "technical beauty and perfection."[1] Between 1935 and 1944 Hiratsuka taught the first blockprinting course at the Tokyo School of Fine Arts. He moved to Washington D.C. in 1962 and spent thirty three years in the United States. While living in Washington DC, he was commissioned by three standing Presidents to carve woodblock prints of National Landmarks, which included the Lincoln Memorial, Washington Monument and Library of Congress which are in the collections of The National Gallery and Freer Gallery today. He ultimately returned to Japan in 1994."
Titled on the left side Pottery Tokaname, the pottery kiln is considered on the of the oldest kiln in the country and the pieces from there are prized items and have been for generations of Japanese.
"Tokoname ware (常滑焼, Tokoname-yaki) is a type of Japanese pottery, stoneware, and ceramics produced in and around the municipality of Tokoname, Aichi, in central Japan. Tokoname was the location of one of the Six Ancient Kilns of Japan."
My client was a student of MICA in Maryland and graduated in the 1950's, his years as a working artist most likely led him to meet Hiratsuka, their art show similarities.
The woodblock is not dated but the frame is circa 1960's, a simple mat black thin profile frame.

Size: frame is 13 1/2 x 14 1/2"
art is 7 13/16" x 7"
Condition: the art is in near perfect with no staining or damage to the paper or the art. The mat is older and may not be archival. The art is hinged at the top with old linen tape. Please see the images for more details.
Shipping will be with the glass removed and packaged between cardboard to help protect the art in transport.
NOTE:
Shipping is for US buyers only, if you are an overseas buyer please contact me with your shipping address prior to purchase to get a shipping quote. Overseas orders will be shipping without the glass. If you want the glass shipped additional shipping costs will be needed to help protect the art. Please contact me before purchase if you want the glass shipped with the order.
Detail photos Click to enlarge