⬅ Return to collection
Out Of Print : Mid-century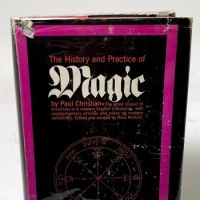 The History and Practice of Magic by Paul Christian Published by Citadel Press 1972 Hardback with Dust Jacket
The History and Practice of Magic By Paul Christian (The Great Classic of Occultism in a modern English translation, with supplementary article and notes by modern authorities. Edited and revised by Ross Nichols. Hardback with Dust Jacket
Translated by James Kiirkup and Julian Shaw Edited and revised by Ross Nichols, in 2 volumes 621 pages. Dust Jacket included
Paul Christian was Jean-Baptiste Pitois, also known as Jean-Baptiste (1811–1877),who was a French author. He originally published the book in 1870.
He started writing the book around 1850's, before he joined the French Army but it was .."In 1859 Pitois turned his attention to writing Historie de la Magie, du monde Surnaturel et de la fatalité à travers les Temps et les Peuples (1870) (trs: History of Magic, the Supernatural World and Fate, through Times and Peoples). Carefully written so as not to offend his largely Catholic audience, it immediately became popular public reading. It surveyed the whole of the occult, explaining each element, and provided a history of occult practice in the West from ancient times.'
This book is the two volumes in one with detailed drawings and charts and other diagrams.
Publish by Citadel Press
Year: 1972 6th printing
Size: 6 1/ 2 x 9 1/2 x 2 inches
Condition: The Dust Jacket is fine with chip and tear on top left edge, wrinkled edges and shelf wear to the from with light rubbing. Spine has light rubbing with small tear on the top spine edge of DJ. Back has light rubbing from shelf wear. And small top left edge tear and chip. Bumped top left corner DJ, Binding is tight with first page having pencil notes on top right. Inside of front board has bump that goes into 9 pages. Not punctured but you can feel the mark. Please see the image images for more details. If you need more images, please feel free to email me.
If you have any questions or need additional photos, please feel free to contact me.
NOTE:
The shipping price is for US buyers only. If you are an overseas buyer, please contact me before purchase with your shipping address to get a quote.
Detail photos Click to enlarge