⬅ Return to collection
1st Edition : 1900-1940s
This item has been sold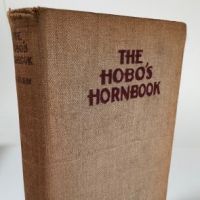 The Hobo's Hornbook A Repertory for a Gutter Jongleur by George Milburn Pub. 1930 by Ives Washburn Folklorist Hardback
The Hobo's Hornbook: A Repertory for a Gutter Jongleur by George Milburn 1930
The Hobo's Hornbook: A Repertory for a Gutter Jongleur
by George Milburn (1906–1966)
Published by Ives Washburn 1930
Hardback edition, 1st edition in embossed cloth end boards.
No Dust Jacket
This book, written at the height of the Depression era, when the Hobo was the traveling wanderlust migrant worker who went from town to town to find work. Like Woody Guthrie and Alan Lomax, George Milburn was a folklorist…"While at OU (University of Oklahoma) he published The Hobo's Hornbook, a compilation of hobo ballads and recitations he had collected in his travels."
Size: 6 x 9 inches
Condition: The books has shelf wear and no dust jacket. The spine is intact but is slightly weakening but no loose pages and still many years left. Towards the end of the book, the page edges are dented and in areas slightly torn.
Note:
I can send you more images of this damage.
If you have any questions or need more images, please email me. I will be happy to send you more images.
NOTE:
The shipping price is for US only, if you are an over seas buyer please email me before purchase with your mailing address to get a shipping quote.
Detail photos Click to enlarge