⬅ Return to collection
[uncategorized]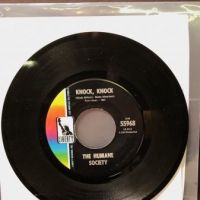 The Humane Society Knock, Knock b/w Tip-Toe Thru The Tulips With Me on Liberty Records Simi Valley, CA Garage Psych
The Humane Society Knock, Knock b/w Tip-Toe Thru The Tulips With Me on Liberty.
The band was from Simi Valley, CA, active from 1965 through 1968 and only had two singles, one in 67 and the other in 68. First single, this one was on Liberty Records and their second was on New World which was the labels one and only.
This song though, a down temp psych song with great fuzz guitar, a California sound for sure with the large reverb but the rave up end is all garage. The B Side is the Tinny Tim made famous song, Tippy Toe. We all know it!
List the to the tracks here:
SIDE 1

SIDE 2


Condition: Vinyl is high Vg+, sounds great and dynamic, great tones, a very tiny hairline on SIDE 1, does not affect the tracking or sound. SIDE 2 has a couple scuffs, has light crackle low and below the music, graded at low VG+. No tracking issues. Sleeve is generic white.
If you have any question or need additional images, please feel free to contact me.
NOTE:
International orders. Shipping will be $18. Please contact me before purchase if you are an International buyer. I will need to adjust the shipping price to reflect a correct shipping cost to you.
Detail photos Click to enlarge