⬅ Return to collection
[uncategorized]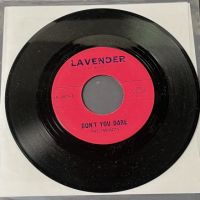 The Impact Express / The Impacts Sunshine Day / Don't You Dare on Lavender Organ Garage 1967
The Impact Express / The Impacts Sunshine Day / Don't You Dare on Lavender LR 2005-1
The band was The Impacts then changed their name to The Impact Express, the Impacts already cut Don't You Dare and had some success and they released in again under the name The Impact Express and added the song Sunshine Day. That song is a bit more jangle pop than the garage track of Don't You Dare.
The label Lavender was from the town of Seaside Oregon and had released a bunch of singles. The Pacific Northwest had quite a few garage bands!!
Listen Here
SIDE 1

SIDE 2

Condition: Vinyl is solid VG+, Side 1 has faint and light faint and low crackle but bellow music. SIDE 2 has a couple pops but not tracking issues and they are low, great tones. Visually both sides are very clean and labels are low NM-. Sleeve is generic white.
If you have any question or need additional images, please feel free to contact me.

NOTE:
International orders. Shipping will be $18. Please contact me before purchase if you are an International buyer. I will need to adjust the shipping price to reflect a correct shipping cost to you.
Detail photos Click to enlarge