⬅ Return to collection
[uncategorized]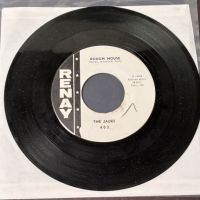 The Jades I Ain't Got You / Rough House on Renay Tennessee Garage Single 1967
The Jades I Ain't Got You / Rough House on Renay 403.

The Jades, this one was from Union City, Tennessee and had three singles. The first one was from 1966. The band was on a lot of garage comps, mostly for the song I Aint Got You but dont short change Rough House, fast paced organ and horn stomper.
The label Renay had singles going back to 1962 and was a small label and put out some great singles of Country, The Jades was really the only garage single on the label.
Listen Here
SIDE 1

SIDE 2


Condition: Vinyl is VG+, light crackle at the start but drops as song comes in and drops to very faint and low. SIDE 2 has surface on the start can be heard, does drop but slightly heard. Visually both sides are very clean with no marks, Labels are clean with one side having light inner staining and a check mark on one side. Sleeve is generic white.
If you have any question or need additional images, please feel free to contact me.

NOTE:
International orders. Shipping will be $18. Please contact me before purchase if you are an International buyer. I will need to adjust the shipping price to reflect a correct shipping cost to you.
Detail photos Click to enlarge