⬅ Return to collection
Military Memorabilia & Art : Posters : 1900-1940s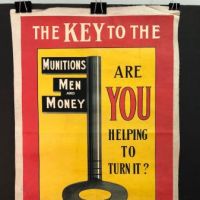 The Key to The Situation Munitions Men and Money WWI Poster England 1915 Printed by Seargeant Bros
The Key to The Situation Munitions Men and Money WWI Poster England 1915
The Key to the Situation. Are You Helping to Turn It? Munitions, Men, and Money
Year: 1915 WWI Poster
Full color Lithograph poster
Marked on bottom : "London : Published by the Parliamentary Recruiting Committee ; London & Abergavenny : Printed by Seargeant Bros. Ltd."
A great published description of this poster from Boston Athenaeum.."War posters were designed to be hung in public places, often outdoors, where they competed with multiple distractions for people's attention. It was vital that a poster's message be understood quickly and forcefully. Even before the war, the trend in poster design was towards greater simplicity. The challenge for the poster artist was to eliminate all non-essential elements from his/her design while retaining an immediately recognizable image and message. Many World War I posters, from both sides of the conflict, employed a traditional, narrative style recognizable to the average citizen. Yet a few poster artists did play with more minimalist, abstract designs. In this poster, with its bold, modern colors, the artist has managed to tackle three subjects (ammunition, enlistment, and war funding) by reducing everything to the visual and textual pun of the key."

Size of Poster 18 7/8 x 29
Condition: Minor Chipping at the bottom of the poster. The Poster has very bold colors and in over all very good condition, please see the images provided for more details. The poster has been mounted to linen and is an older and thinner linen
If you have any questions or if you need more images please feel free to email me.
NOTE
If you are an international buyer, please email me before purchase with your mailing address to get a shipping quote. The price quoted if for US shipping only.
Detail photos Click to enlarge