⬅ Return to collection
[uncategorized]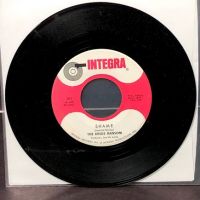 The Kings Ransom Shame b/w Here Today Gone Tomorrow on Integra 101 Allentown Pennsylvania Garage
The Kings Ransom Shame / Here Today Gone Tomorrow on Integra – 101.
"The Kings Ransom were an American garage rock band from Allentown, Pennsylvania who were active from 1965-1968 and were a popular act in the Lehigh Valley area, as well as around Philadelphia."
The band started in 1965 and released two singles in 1967, both on the Integra label, a Allentown Pa label.
Shame had a great fast paced drum and a stunning guitar line, a Stones influenced song, a great garage single.
Listen tot the Tracks
SIDE 1

SIDE 2


Condition: Vinyl is Vg+, sounds great with a hint of faint surface sometimes, no tracking issues on either side. Both sides visual are very clean and the sound is great on both sides and can hear dynamics of instruments. An occasional faint surface low and faint can sometimes be heard. Sleeve is generic white.

If you have any questions or if you need additional images, please feel free to email me.

Note:
shipping cost is for US only, if you are an over seas buyers please email me your shipping address to get a shipping quote.
Detail photos Click to enlarge