⬅ Return to collection
[uncategorized]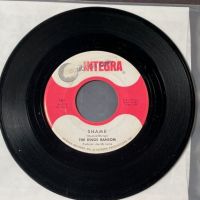 The Kings Ransom Shame b/w Here Today Gone Tomorrow on Integra 1967 Allentown PA Garage Band
The Kings Ransom Shame b/w Here Today Gone Tomorrow on Integra 101.
Allentown PA garage band that had two releases, both on Integra. Also from Allentown Pa, the label featured both singles by the band and a few by other acts.
The band had some good success with this single which has been on a lot of garage comps.
LISTEN HERE
SIDE 1

SIDE 2


Condition: Vinyl is solid VG+, SIDE 1 has light and a couple very faint hairlines, no tracking issues and no sound issues. A faint and very low crackle at start but drops when music comes in, sporadic and faint crackle sometimes heard. SIDE 2 plays at solid VG+, a very light and sometimes heard crackle but very low. Great tones and a very clean sounding copy. Labels is low Vg+, SIDE 1 has small abrasion and slight fade. SIDE 2 is very clean and both sides are rubber stamped Promotion Copy. Sleeve is generic white.
If you have any questions or if you need additional images, please feel free to email me.

Note:
shipping cost is for US only, if you are an over seas buyers please email me your shipping address to get a shipping quote.
Detail photos Click to enlarge