⬅ Return to collection
[uncategorized]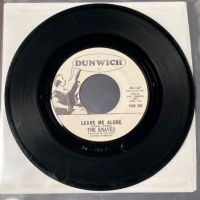 The Knaves Leave Me Alone on Dunwich White Label Promo 1966 Garage Chicago Band
The Knaves Leave Me Alone on Dunwich 45-147 white label promo.
A Chicago band with 2 releases, and this one on the great Dunwich label. The A side is a great Yardbirds type song. The fantastic anti establishment of Leave Me Alone, a great precursor to the Punk snubbing. The B SIDE is breaks with the bands anti stance and is more of the typical Boy Girl pop song.
A great white label promo!
SIDE 1

SIDE 2


Condition: Vinyl is high VG, has light surface, low but still great tones and surface is below and sometimes at music. SIDE 1 has light marks. SIDE 2 has light marks, plays with surface at music, still strong tones and surface is at music. No tracking issues on either side. Labels are high Vg+, very minor rubbing on both sides. Sleeve is generic white.
If you have any questions or if you need additional images, please feel free to email me.

Note:
shipping cost is for US only, if you are an over seas buyers please email me your shipping address to get a shipping quote.
Detail photos Click to enlarge