⬅ Return to collection
[uncategorized]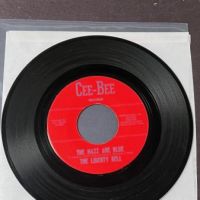 The Liberty Bell The Nazz Are Blue / Big Boss Man on Cee-Bee Records Corpus Christi Texas Garage 1967
The Liberty Bell The Nazz Are Blue / Big Boss Man on Cee-Bee Records.
From Corpus Christi, Texas that band had a very similar style and sound of the Yardbirds. Not many bands could hold a candle to the talent of that band but without the Yardbirds, the American garage sound would not be the same. A great band with a killer single on Cee Bee Records. The band had three singles on the label, a small Texas label. The band's last two singles would be on the Back Beat Records, a Houston label.
LISTEN HERE
SIDE 1


SIDE 2

Condition: Vinyl is NM-, sounds great as soon as the needle goes on, a sometimes faintly heard light crackle low and below the music but goes away quickly. SIDE 2 plays equal and is very clean sounding. Visually, only a couple very faint paper scuffs, no tracking issues. Labels are both NM-, no marks and very clean, show almost no signs of use. Sleeve is generic white.
If you have any question or need additional images, please feel free to contact me.
NOTE:
International orders. Shipping will be $19. Please contact me before purchase if you are an International buyer. I will need to adjust the shipping price to reflect a correct shipping cost to you.
Detail photos Click to enlarge