⬅ Return to collection
[uncategorized]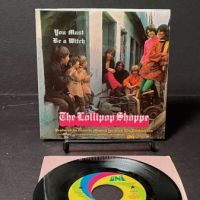 The Lollipop Shoppe You Must Be A Witch Promo with Picture Sleeve Uni with T1 in Deadwax Amazing Condition
The Lollipop Shoppe You Must Be A Witch Promo with Picture Sleeve.
A rare version with T1 in Deadwax. and labeled Promo on the label
The Lollipop Shoppe were The Weeds, their manager changed with name for them without them know!
Some people will know that band's main writer is Fred Cole who would do countless Portland bands but will forever be knows for his band Dead Moon with his wife Toody. What a band, but this single is firmly a garage classic!
LISTEN HERE
SIDE 1

SIDE 2


Condition: Vinyl is high VG+ and close to NM-, no marks on either side. Sounds great and very clean with faint crackle very low but no marks. Both sides have NM- labels. Both Sides look the same, SIDE 2 plays with a very faint and low crackle. Sleeve is VG+, has light wrinkle from storage and lower corners have very light wrinkles and bends. No damage to the PIC sleeve, slight ungluing on one edge.
If you have any questions or if you need additional images, please feel free to email me.

Note:
shipping cost is for US only, if you are an over seas buyers please email me your shipping address to get a shipping quote.
Detail photos Click to enlarge