⬅ Return to collection
[uncategorized]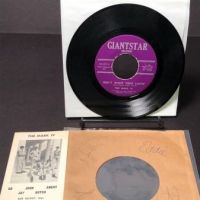 The Mark IV Would You Believe Me on Giantstar Records w/ Signed Sleeve with all 5 Members and Very Rare Band Card
The Mark IV single on Giantstar with all 5 members singing the stock paper sleeve, plus a very rare and scarce band pitch card with pressphoto and band's manager's name. I was blown away when my client dropped this piece of garage music history in my hands. A damn good single and a great garage collectors piece.
The Mark IV was a great garage band based in Poughkeepsie, NY USA. They achieved pretty good local success and played a lot in the area gaining local celebrity status and demanding pretty good money for the times.

"Don't Want Your Lovin'" is killer song and kinda a tough garage song. A cool mix of James Brown intro mixed with heavy organ and with sold stomping rhythm guitar. The single was released in October 1966 on Giantstar 405, some sites say their first single while others say their second single.
Giantstar Records released three of the band's singles and one other band's single. Located in Mahopac NY.

Listen to the Tracks here:
SIDE 1

SIDE 2

Condition: Vinyl is VG+, has very light surface below the music, no tracking issues. SIDE A has faint paper scuff hairline and small defect at the edge. SIDE B plays great high VG+ with tiny sometimes crackle. Label hole edge has tiny marks.
If you have any questions or if you need additional images, please feel free to contact me.

Note:
Over seas buyers please contact me before purchase with postal code to get a shipping quote. Shipping cost posted is for Domestic shipping only.
Detail photos Click to enlarge