⬅ Return to collection
Mid-century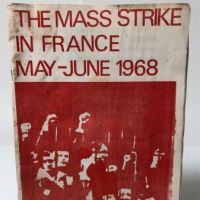 The Mass Strike in France May June 1968 Published by Root and Branch Pamphlet Cambridge Mass 1970 Translation of ICO Pamphlet
**Same collection as Weather Underground. Client Lived and Worked in Cambridge Mass Radical Book Store "The Red Book"**
The Mass Strike in France May June 1968 (ENGLISH Translation of ICO Pamphlet FROM 1968)
Published by Root and Branch Pamphlet Cambridge Mass
Year: 1970
Roots & Branch was a monthly publication by the Left Bank in Cambridge Mass.
The reprint, 2 years after the French Student Revolution of 1968. Even though the differences were present between France and America, the goal was to show support and to expose the corruption and to mobilize the youth here in the US.
The printed pamphlet, with the offset red picture cover was done on paper with staple binding.
Size: " x 9 3/4"
condition: Fine with notable water staining and damage to the red ink on the front. Foxing can be seen on the cover and into the first few pages. The back has noticeable water staining and foxing on the last several pages. Please see the images for more details.
If you have any questions or if you need additional images, please feel free to email me.

Note:
shipping cost is for US only, if you are an over seas buyers please email me your shipping address to get a shipping quote.
Detail photos Click to enlarge