⬅ Return to collection
Punk : 1970-Contemporary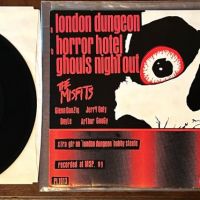 The Misfits 3 Hits From Hell 1st Pressing Grey Label Plan 9
1st Press with Grey Label The Misfits 3 Hits From Hell
Vinyl is low NM- and sleeve is low NM-
Vinyl:
SIDE 1 has a faint crackle at the start but does drop once music plays in. Can see a couple faint hairlines in dead wax. Vinyl is visually NM- on SIDE 1. SIDE 2 is visually same as SIDE 1. Has very faint crackle at end of 1st track, rest is very clean. Graded at low NM- but slightly higher than VG+, borderline between VG+ and NM-.
Cover
Low NM-, a couple bottom edge faint wrinkles and top has a tiny edge wrinkle. Viewed at angle a very faint rub mark. Center of sleeve has a very faint bump from 45 insert pressing, ONLY SEEN AT ANGLE.
Back is almost perfect, has two small edge wrinkles on bottom left, very minor.
No insert for FiEND CLUB.
If you have any questions or need more pics, please let me know. I can send you tracks, please let me know.
Detail photos Click to enlarge