⬅ Return to collection
[uncategorized]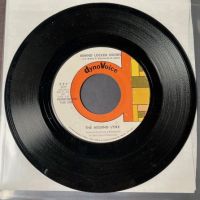 The Missing Lynx Behind Locked Doors b/w You Don't Love Me Anymore on Dynovoice Records Promo Cleveland Ohio Garage
The Missing Lynx Behind Locked Doors b/w You Don't Love Me Anymore on Dynovoice 227 Promo.
The Missing Lynx, a Cleveland Ohio band, there was a Bowling Green Ohio band Called The Missing Links, but The Missing Lynx was so much better, billed as the Mad and Mod the band started in 1965. The band had this one and only single Dynovoice and had distro by both Bell and Dot Records.
A great stomper, with a cool spooky guitar keyboard part with some good gravelly vocals. The B side is a more melodic song wtih a pretty good chorus vocal hook.
LISTEN HERE
SIDE 1

SIDE 2


Condition: Vinyl is visual NM-, plays close to NM- but graded at high Vg+, faint crackle at start that drops away. Both sides play equal and both labels are almost a NM-. Sleeve is generic white.
If you have any questions or if you need additional images, please feel free to email me.

Note:
shipping cost is for US only, if you are an over seas buyers please email me your shipping address to get a shipping quote.
Detail photos Click to enlarge