⬅ Return to collection
Modern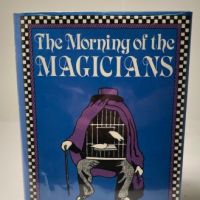 The Morning of The Magicians BY Louis Paulwels and Jacques Bergier Hardback with Dust Jacket Dorset Press Occult and Conspiracy
Title: The Morning of The Magicians
By: Louis Paulwels & Jacques Bergier
Hardback edition with Dust Jacket
Year; 1988
Publisher: Dorset Press
ISBN: 0880291915
Hardback with Dust Jacket
300 pgs
"First published in 1960, couples profound insights into the hidden history of humanity and our perceptions of reality with the scientific evidence that supports the existence of paranormal activity, telepathy, and extraterrestrial communications. The first book to explore in depth the Nazi fascination with the occult, Pauwels and Bergier also broke new ground with their study of pyramidology, alchemy and its close kinship with atomic energy, and the possibility of a widespread mutation of humanity that would herald the dawn of a new age for the earth. Their study of secret societies, starting with the Rosicrucians, suggests that such changes are actively being pursued in the present day by a "conspiracy" of the most spiritually and intellectually advanced members of the human race."
Condition: The book and binding are near perfect, no writing or damage inside the book. The Dust Jacket is near perfect, in protective mylar cover. No marks or tears visible. Please see the images provided for more details.
If you have any questions or if you need additional images, please feel free to contact me.
NOTE:
Shipping quote is for US buyers only, if you are an international order please contact me before purchase with your mailing address to get a shipping quote.
Detail photos Click to enlarge