⬅ Return to collection
[uncategorized]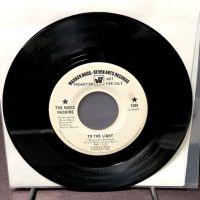 The Music Machine To The Light Warner Bros. - Seven Arts Records – 7199. White Label Promo 1968
The Music Machine To The Light Warner Bros. - Seven Arts Records – 7199. White Label Promo.

The band that would be on every garage comp and one of the top known garage bands of the 60's. Their look and sound both fit into the misfit category of the garage style, black clothes and long black hair and in some early days ,black leather gloves. The band had a heavy keyboard with hooks all day long but what separated them from other, Stones copy or Yardbird wannabes was the deep low vocals of Sean Bonniwell. The first album was 1966 but by 1968 the band would be Sean Bonniwell and The Music Machine and the band moved to Warner Bros.
This is their fist single for Warner Bros and the label didnt move to the new look of the band and name change.
Listen to the Tracks
SIDE 1

SIDE 2



Condition: Vinyl is Vg, plays with surface and can be heard in quieter parts, vinyl has marks one SIDE 1 but no tracking issues. SIDE 2 looks cleaner but has very light and low surface noise at starts, does lower as song plays but can be heard slightly in breaks. Sleeve is generic white.
If you have any questions or if you need additional images, please feel free to email me.

Note:
shipping cost is for US only, if you are an over seas buyers please email me your shipping address to get a shipping quote.
Detail photos Click to enlarge