⬅ Return to collection
[uncategorized]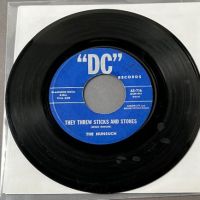 The Nunsuch They Threw Sticks and Stones b/w Once Before on "DC" Maryland/ DC Garage Fuzz
The Nunsuch They Threw Sticks and Stones b/w Once Before on "DC" 45-716.
Not a lot on this band, they were from Washington DC area/ Maryland and had this one and only single. The release date is unknown. A great Fuzz guitar garage single
SIDE 1

SIDE 2

Condition: Vinyl is VG, light marks on both sides. SIDE 1 has spots but plays at low VG+, very faint crackle heard in breaks, rest is great, spots play through with ease and no sound issues. SIDE 2 has slightly heard crackle, still great tones and no tracking issues. Labels are very clean, SIDE 2 has name in pen on side. Sleeve is generic white.
If you have any questions or if you need additional images, please feel free to email me.

Note:
shipping cost is for US only, if you are an over seas buyers please email me your shipping address to get a shipping quote.
Detail photos Click to enlarge