⬅ Return to collection
Alternative New Wave : 1970-Contemporary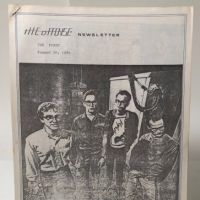 The Offense Newsletter 47 Issues of the Legendary Ohio Punk/ New Wave Zine by Tim Anstaett Original Collection
The Offense- Newsletter Zine from the early 1980's
Based in Columbus Ohio, this fanzine like others were put out and written by the small but growing fans of the music it wrote about. Doing a zine was part of the life, the scene being so small you felt alone but the fanzine was a way to reach the few people who got you and understood you. By the early 1980's the punk scene in America was being fractured by the styles but was all somehow still part of the same "tribe". You had the English Punk style, the American Hardcore scene and then by the early 1980's the Goth and Post Punk music was growing and evolving to the alternative scene.
The Offense Newsletter is filled with show reports, letters to the editor (Offense publisher/editor/least-talented contributor Tim Anstaett) and what makes this zine amazing, the record reviews.
The record reviews were current and reviewed as these records came out but what is amazing is the depth and writing and honest look at these bands and records.
I have found these chosen records reviewed to be source of what was considered and accepted by the teen emerging new sounds.
Some of the records reviewed would become what is considered the "sound" of that era.
I have gone through all these and have found amazing bands I have only heard of. Remember, the records reviewed were imports and at the time very hard to get and for many of these records imported only a handful were released and an even small amount came to America.
47 Issues for sale and sold as group
Each issue were at least 4 stapled pages and some issues being slightly larger
Starting in 1982, August 20th being The First and ending in September 28th 1984.
Missing from the collection is
The Seventh
The Eleventh
The Seventeenth
The Eighteenth
Some Notable covers are The Birthday Party, Nick Cave and Bad Seeds, Dead Can Dance, Death In June, The Embarrassment, Sport of Kings, The Oil Tasters, Gun Club, The Three O'Clock, X, James Chance, The Fall , Xmal Deutschland and so many more. Please take a look at the video below for a complete review of the issues.
If you are a collector of early America zines or a lover of early 80's music, this is not only history but a resource of depth as well as a window into what the early 80's of American scene was.
Enjoy!!!
Condition: most issues are in very good condition with slight edge bumps and light storage marks. Bent at the top left stapled corner from use and one issue is missing a staple. All in very good and strong condition. Please see the images for more details.
If you have any questions or need additional information, please feel free to contact me.

Noted:
Overseas buyers please email me for shipping quote, please provide me with a shipping address and postal code.
Detail photos Click to enlarge